What Problems Can Veneers Correct

Grants Pass, OR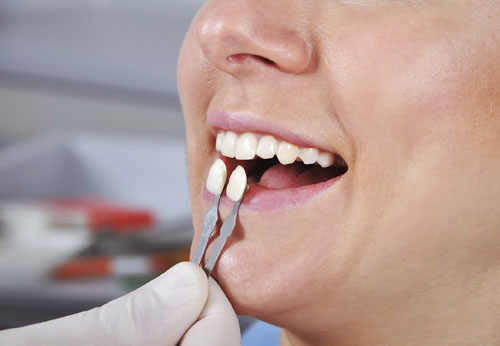 A dental veneer is a shell made of porcelain that covers the front surface of your teeth. These dental solutions help to conceal any deformities on your teeth, such as discoloration, fracture, decay, or chips. In case you are concerned about the appearance of your teeth, you should consider dental veneers. Our dentists at The Center for Esthetic Dentistry are experts in veneer installation and will help restore a confident smile. We will examine your teeth and decide whether these solutions can help correct the existing deformities.


Dental veneers are thin shells engineered with porcelain or resin composite to cover your teeth. They only cover the front part of a tooth. Our dentists bond these shells on the surface of the teeth to change the shape, length, and color of your teeth. Porcelain materials are commonly used as they can resist stains.


The significant difference between veneers and dental crowns is the part of the teeth that they cover. A veneer is bonded on the front part of the teeth, while crowns cover the whole surface of the teeth. Veneers are made of a thin material that measures only 1 mm, while the crown has a thickness of 2 mm.


Major Types of Conditions Veneers Help Correct
Discolored Teeth

Discolored teeth can be frustrating, and you might not be confident to smile in public. Brushing alone is not an effective way to eliminate this problem. Porcelain veneers cover the discolored teeth and make your teeth whiter. This solution offers a smooth and shiny surface that is resistant to staining.


Teeth Crowding

Veneers can give an impression of straight teeth. Ideally, they don't reposition your teeth but make them appear straighter. Dental veneers are preferred for aesthetic concerns.


Cracked or Fractured Teeth

Dental veneers are restoration options bonded on your teeth to cover all imperfections. They cover any cracks or fractures when bonded on the teeth. They are adequate for small chips on your teeth. Our dentists can use single veneers to cover one chipped tooth, or you can get veneers on all of your front teeth. Two dental visits are needed to place veneers.


Correct Misshapen Teeth

Misshapen teeth are when your teeth don't have the same shape and size. This can cause misalignment problems which affect the aesthetics of your teeth. Misaligned teeth can interfere with chewing and lead to headaches and jaw pain. Veneers help to make your teeth well-shaped and correct any misalignment issues.

Veneers are primarily used for cosmetic purposes. They help beautify and align your teeth better but may not address existing issues such as decay. If you are interested in getting veneers, be sure to visit our clinic at The Center for Esthetic Dentistry. You can also book your next appointment with our dental experts by simply calling us at 541-507-0999.