Dental Veneers

Dentist Grants Pass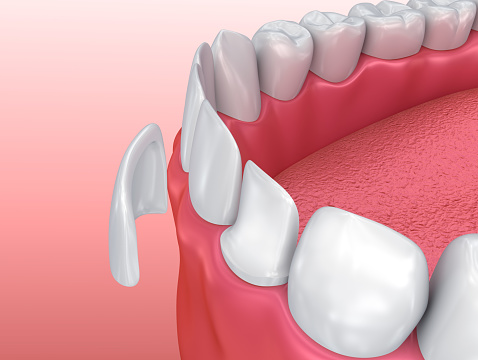 Veneers might be the one dental procedure that you have not heard of. Most people are familiar with root canals, dental crowns, and dentures, but for some reason, veneers get the short end of the stick. That does not mean that they are not useful, however, and veneers can really help improve the health of your mouth. Our dentists at The Center for Esthetic Dentistry are experts on veneers, and we know exactly how to use them to get your teeth fixed up and looking good as new.

Veneers are able to help with cosmetic problems that are on the front teeth. If you have a chipped tooth, a gap in your teeth, or teeth that are misshapen, then veneers might be a good way for you to fix the problem.


Providing Visible Results

A veneer is nothing more than a thin outer covering that is slid over the outside of a front tooth to protect it and also to look like a natural tooth. If you have gotten tired of covering your smile because your front teeth do not look good, then this can help you out. Veneers can help with damaged front teeth, crooked teeth, or stained teeth that cannot be fixed any other way.

Our dentists make veneers out of porcelain by creating custom shells that easily slide onto your damaged teeth. Porcelain is one of the best materials to use in dentistry, namely because of its durability and the fact that it looks like natural teeth.


The Procedure

Once our dentists have met with you and determined that veneers are the best option for your teeth, we get right to work. We first remove some enamel from your teeth, not enough to damage it, but enough to fit the veneer over comfortably.

We take the molds and shade them properly, so they fit in with your existing teeth, and once the molds are complete, we place them onto your teeth. After the fit is made perfect, we bond them to your teeth and that is it. You can walk out the door with your new teeth and get back to a normal life.


What to Do Post-Procedure

After the procedure is done and you walk out the door with your veneers, make sure to treat them as you should your normal teeth. Do not bite down on very hard objects like your fingernails or ice, as the porcelain can break under too much pressure. Additionally, you might feel a bit uncomfortable as your mouth gets used to the idea of wearing veneers, but that will fade with time. Therefore, you can treat veneers as if they are real teeth and soon you will not feel or see any difference between the veneers and your natural pearly whites.

Our team at The Center for Esthetic Dentistry are experts on placing veneers and getting them to align with your natural teeth to ensure proper oral health continues. If you want to get veneers, make sure to call us at 541-507-0999 and set up an appointment with one of our dentists so we can get you in for an assessment to see if they are right for you.