Invisalign®

Grants Pass, OR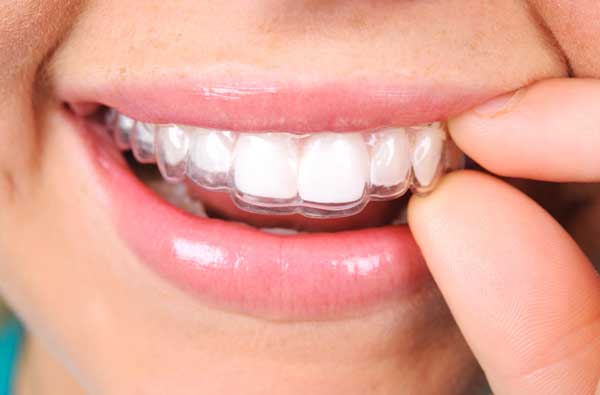 Having crooked teeth or teeth that are out of line can be a bit embarrassing out in public. Crooked teeth can also cause problems with eating and talking as time goes on, so you want to get them fixed as quickly as possible. While things like braces and clear aligners have been around for quite a long while, the newest and best way to align your teeth has to be Invisalign. Our cosmetic dentists at The Center for Esthetic Dentistry know how to use Invisalign to straighten your teeth and want to make sure that you have all the answers.

Invisalign has several benefits over braces and aligners, and the benefits do not all have to do with your straight teeth. Once you hear these benefits, you might want to find out more about Invisalign and if it is right for you.


Benefits for Straight Teeth

Crooked teeth often lead to biting issues. Everything from overbites to underbites can become problems whenever your teeth are not entirely straight. Invisalign can help correct these issues and move your teeth back into place.

If your teeth are not corrected, the bite problems can cause irritations in your gums, cause problems with your teeth, or pain in your jaw. The faster you make the change to Invisalign, then the quicker you can prevent these problems from happening in your mouth.

Additionally, if you have large teeth in a small mouth, Invisalign can be beneficial for you. Crowded teeth do not only look odd, but they can cause gum disease and can even crack your teeth. You need to treat the overcrowding as quickly as you can because it will get worse.


Benefits for Your Life

Additionally, Invisalign is clear and almost unnoticeable once you put them on. Unlike braces, which are noticeable once you smile, you will be able to use Invisalign and know that it is invisible unless you look closely.

Another benefit of Invisalign is the ability to eat what you want without dietary restrictions that are common with traditional braces. Traditional braces tend to limit your diet as you do not want to damage them or get them dirty. You cannot eat any sticky food or hard food while wearing braces, but since Invisalign is removable, you do not need to monitor what you eat. Once you remove the trays, the food restrictions are lifted.


Saving You Time and Money

Finally, Invisalign are not only less expensive than braces, but they do not need to be maintained as often. You typically have to come to see our orthodontists every six weeks to get the trays looked at and maintained, and that will be it. Additionally, it takes about one to two years to get your teeth strengthened. With braces, they can be a lot harder to maintain and require more visits, and it can take up to five years to straighten your teeth.

Our dentists at The Center for Esthetic Dentistry have access to Invisalign and are experts with installing and maintaining the trays. If you need to fix your crooked teeth with cosmetic dentistry and Invisalign, then give us a call at 541-507-0999, and we will help you.