Dental Implant

Grants Pass, OR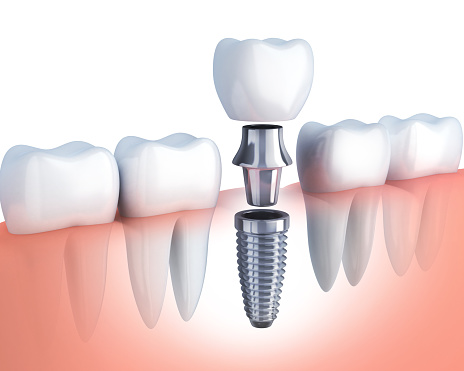 Finding the ideal choice to restore missing or damaged teeth can be difficult - crowns, bridges, dentures, how can you know what is best? Lucky for you, there is only one restorative option considered to be the gold standard for replacing teeth that are lost or too damaged to be saved: dental implants. The Center for Esthetic Dentistry has dental implants for all our patients' needs.


Understanding Dental Implants

Dental implants rely on a very simple technology that is nonetheless making a huge difference to patients seeking restorative dentistry. The implant itself looks a lot like a tiny screw and is made out of titanium. This implant goes into the bone of your jaw, where it actually bonds with your body. This means that the implant takes the place of the missing root of the tooth, enhancing bone health and feedback.


Dental Implant Procedure

Are your teeth loose, and do you have little to no tooth structure left? Are you having trouble chewing, biting, or talking? Dental implants may be the answer. You can restore your smile with dental implants without a denture or traditional bridge. When other treatments fail, dental implants are a great alternative. Dental implants are needed for many reasons. Whether you lost a tooth to periodontal disease or an injury, finding the right dentist and having a plan is essential. Our dentists at The Center for Esthetic Dentistry can examine your mouth and determine the best course of action for you when considering a dental implant procedure.


The Placement of Dental Implants

Depending on the restorative dentistry treatment that you need, there are a variety of potential dental implant placements. The most common is a single tooth implant, designed for patients who are either missing just one tooth or multiple teeth that are widely spaced. For patients missing multiple teeth, especially when those teeth are adjacent to one another, a multiple tooth implant, also known as an implant bridge, can minimize the number of implants you need. This reduces surgery time and speeds up recovery. You can even combine the stability and endurance of dentures with implants by getting implant-supported dentures. With these, you will never have to worry about an improper fit for your dentures causing embarrassing speech impediments or restricting your diet.


Dental Implant Restoration

At The Center for Esthetic Dentistry, we have a team of dentists that are experts in bone grafting, implant placement, restoration, and other related dental procedures to help ensure you restore your lost smile while reducing any associated risks. We use state-of-the-art technology that helps in speeding up healing time. Dental implant restoration is when an artificial tooth replaces a missing tooth. The dental implant restoration procedure involves attaching a crown to an implanted root fused with the jawbone.


Can a Dental Implant Benefit You?

We believe that chances are the answer to this question is a resounding yes! Whether you are missing one tooth or all your teeth there is a dental implant that can make a major difference in your life. Still, there are a few conditions that might need to be remedied before implants are viable. Because implants rely on the jawbone for support, bone resorption, a common response to tooth loss, can make it unsafe to place the implants. Gum disease can also complicate receiving implants. Fortunately, we can help you with both bone loss and gum disease so that you too can receive implants.


Getting Dental Implants

If you are getting dental implants you can look forward to a relatively simple process, usually just two appointments. At your first one we place the implant and cap it with a temporary crown to protect it and give you a full smile. It takes time for the implant to meld with your jaw, so in the meantime, we will work on designing and constructing your permanent crown. When your implants have fully healed and your crown is done, you can come back for your final adjustments.


Get the Gold-Standard Today!

If you need to replace a missing or damaged tooth and you want to never be able to tell the difference between your old teeth and new, then you want a dental implant. No other restorative option offers the same combination of durability, aesthetics, and strength. To find out if dental implants are affordable for you and start your treatment with The Center for Esthetic Dentistry today, call us at 541-507-0999.

Additional Information:
How Much Do Dental Implants Cost
Smile Makeover