Veneers vs Dental Crowns

Grants Pass, OR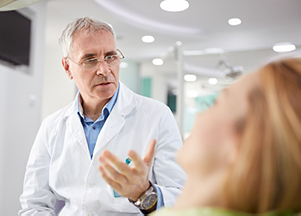 Veneers and dental crowns are restoration solutions that can help improve how your teeth look and function. You, however, need to understand each solution to choose the right one. At The Center for Esthetic Dentistry we will help restore your smile and oral health. Here is a look at the two restoration procedures.


What are Dental Veneers?

Dental veneers or porcelain veneers are thin shells that are meant to cover the front part of your teeth. This procedure is done to improve the look of your teeth.

Veneers can be attached to your teeth to improve their size, shape, length, or color. Some of the issues that veneers can help fix include discoloration from excessive fluoride, root canal treatment, and stains from medications like tetracycline. Veneers can also help restore teeth that are chipped, worn down, misaligned, or broken. Dental veneers are made from resin or porcelain composite materials.


What is a Dental Crown?

Dental crowns are tooth-like caps that cover the entire tooth. Crowns are used to cover teeth to improve their appearance. Crowns can also help restore the strength, size, and shape of your teeth. Once your dentist has cemented the dental crown in place, it fully covers the visible part of the tooth. Dental crowns can support teeth that have large fillings and protect weak teeth from chipping. Crowns can also cover discolored or misshapen teeth.


Types of Dental Crowns

While crowns are made of different materials, the two commonly used materials are porcelain combined with metal and ceramic. If you want crowns that have a natural look, ceramic crowns can be a great option for you because ceramic looks quite similar to natural teeth. Ceramic is also a great solution if you have metal allergies.

In addition to the above benefits of ceramic crowns, this material is also highly resistant to temperature changes, and this will limit any temperature sensitivity you may experience. Conversely, porcelain crowns are more durable because their interior is made of metal. Due to their base consisting of metal, porcelain crowns have a lowered risk of fractures and better structural integrity.


Traditional Crowns vs Same Day Crowns

When it comes to the dental crown placement procedure, you can either opt for traditional or same day crowns. If yours is a same day crown, you'll only need one appointment with the dentist. The dentist will make a 3D image design using a computer-aided design and an intraoral camera.

Once the dentist has created a model of the damaged tooth, they'll create the same day crown using a CEREC machine. The dentist will then place the new crown, with the whole process taking about an hour. With traditional crowns, you typically need to make two visits. The dentist will first take x-rays of the damaged tooth and perform any necessary work on it. They will then create a model of the tooth that will be used in a laboratory to craft the crown.

To protect the damaged tooth for two to three weeks the dentist will place a temporary crown during the first visit. The dentist will then place the permanent crown during the second visit. If you want to restore or improve the function or appearance of your teeth, contact us at The Center for Esthetic Dentistry at 541-507-0999.