Dental Implant Procedure

Grants Pass, OR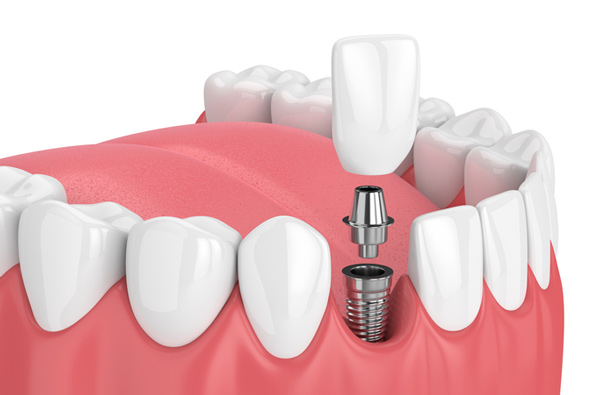 Are your teeth loose, and do you have little to no tooth structure left? Are you having trouble chewing, biting, or talking? Dental implants may be the answer. You can restore your smile with dental implants without a denture or traditional bridge. When other treatments fail, dental implants are a great alternative. Dental implants are needed for many reasons. Whether you lost a tooth to periodontal disease or an injury, finding the right dentist and having a plan is essential. Our dentists at The Center for Esthetic Dentistry can examine your mouth and determine the best course of action for you when considering dental implants.


What Are Dental Implants?

Dental implants are an option for people who have lost teeth due to accidents or other dental problems that cannot be resolved with dentures and dental crowns. A person might need more than one implant to restore their smile. Fixing the jawbone can also become an essential part of this treatment since it ensures the stability and durability of the implants if they are installed in bone-deficient areas.

Implants are artificial tooth roots inserted into the jawbone. Implants hold prosthetic teeth in place. Like natural tooth roots, they function similarly. Artificial teeth look, feel, and function like natural teeth. Three parts make up an implant: the implant, the abutment, and the crown.


Implants vs. Bridges and Dentures

Implants are not the only option for replacing missing teeth. Dental bridges and dentures are also good options. A dental bridge consists of porcelain teeth attached to crowns attached to abutment teeth (the teeth on either side of the gap).

Dentures are removable prosthetic teeth attached to the gums and removed when needed. You can get partial dentures or complete dentures. When comparing dental implants vs dentures or bridges, there are some things to consider when making the best decision for you, such as the number of missing teeth that you have, the cost, experience, and replacement.

An implant for each missing tooth would be impractical if you are missing many teeth in a series or all of your teeth. If this is the case, dentures are the best option. Another scenario can be if you are missing three to four teeth in a row. In this case, a dental bridge would be the most appropriate solution. Dentures are the cheapest option. A low-cost denture could cost approximately $300 to $500. A set of both lower and upper dentures shouldn't exceed the cost of $1,000. Accordingly, a bridge with two crowns and one pontic would cost between $2-5,000 while one implant only will cost between $3,500 and $4,500.

Dentures may last up to seven years, after which you will need a new set of dentures. A dental bridge must also be replaced after 10 years. However, a dental implant is a permanent solution that does not require replacement. Talk to The Center for Esthetic Dentistry about what the best option is for you, and we will help you weigh the pros and cons of each. Call us at 541-507-0999 to get the process started today!