Are Dental Implants Affordable

Grants Pass, OR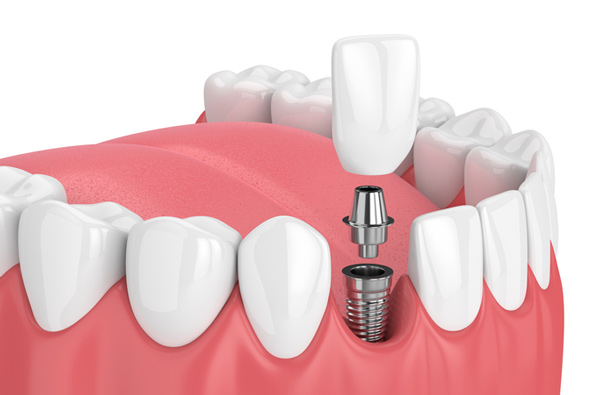 Dental implants are artificial titanium devices designed to resemble natural teeth. Dental implant restorations are the ideal choice when you have lost one or more teeth. They offer the most long-term benefits and are more durable than most dental alternatives.

Although they are more expensive than alternatives, dental implants can be more cost-effective in the long run. When you contact our team at The Center for Esthetic Dentistry you can expect a thorough assessment before the dental restoration process.


What are Dental Implants For?

Statistics show losing one tooth can cause a significant loss in bone mass within just one year of extraction. The tooth's root performs a crucial function by stimulating the underlying tissues. After tooth removal, the jawbone begins to resorb and lose its density.

Jawbone resorption can weaken the support for the remaining teeth. Over time, teeth may become loose and fall out in extreme cases. It may encourage gum inflammation and tooth decay due to misalignment resulting from tooth removal.

Placement of the screw-like post commences once diagnosis confirms you are an ideal candidate for the procedure. It involves minor cuts on the underlying tissue to create an opening for the artificial root. You must have adequate bone mass to stabilize the dental appliance.

People with severe deterioration may undergo grafting to improve their bone mass. The graft is a special bone tissue that stops and reverses bone loss. It has a significant recovery period that may take months before placing the rest of the implant.

After your soft tissue heals, our dental team can place the abutment over the implant post. The abutment serves as a link between the artificial root and the crown. The crown is a ceramic shell that resembles your natural tooth.


Types of Dental Implant Restorations

Dental procedures apply various techniques when using implants as substitutes for one or more tooth gaps. The principal dental implant restoration types typically include endosteal and subperiosteal implants.

Endosteal implants are the more popular choice for missing teeth when the jawbone has no signs of erosion. The post is usually a titanium material that gradually merges with the underlying bone to minimize instability.

Subperiosteal implants are not as widely available as endosteal varieties. They are suitable for cases where the jawbone has insufficient tissue mass to support the post. It does not involve insertion into the gums and underlying bone. Instead, the implant relies on a unique frame attached through micro incisions around the gum line.

Endosteal procedures are more widely available because of their exceptionally successful outcomes. They have a lower risk of complications than subperiosteal interventions. Despite the minimally-invasive process, most dental specialists will overlook subperiosteal and choose endosteal implants.

Several options are available for endosteal implants for addressing the loss of multiple teeth. One version involves affixing a bridge to the artificial root to mimic the function of a complete tooth arch. All-on-4 and 3-on-6 varieties are the top choices for restoring an entire set of teeth. Our dentists will guide you through the options and explain the implication of each.


Dental Implants vs. Bridges

Bridges are popular alternatives to implants for addressing multiple tooth loss. They allow you to chew food and make speech easier. They prevent teeth from moving out of position, limiting malocclusions or teeth misalignments.

The cost of dental implants vs. bridges is higher. A conventional bridge may require between $2,000 to $3,000 to complete treatment. They also have a shorter recovery timeline compared to implants.

Despite the higher cost, implants are more effective at reducing long-term oral health complications. They limit the breakdown of bone tissue after a tooth extraction or trauma. Routine maintenance is minimal compared to the care required for bridges.


Dental Implants vs. Dentures

Dentures are also affordable alternatives that offer a temporary solution for missing teeth. As with bridges and implants, they can restore bite function and teeth aesthetics. They also support facial structures to limit changes to your appearance.

Unlike implants, dentures are removable and do not require adequate bone density. Our specialist will customize the device after assessing the structure of your mouth and gums. Dentures utilize dental adhesives to affix them to the gum line.

Dentures cost approximately $1,500 to $2,000 to cover a single tooth gap. Although cheaper, dentures are less comfortable for chewing hard foods than implants. You must remove the device before going to bed.

Implants have much fewer aftercare demands than dentures. Dentures require regular cleaning and proper storage in a specialized dental solvent. They also need routine replacements after a few years, incurring more long-term costs.

Dentures present many complications that affect treatment results. They experience mechanical faults and changes in shape, which require adjustments. Since they often become loose, they cause scarring on the gum tissue, promoting inflammation.


Why Opt for Dental Implants?

Typically, dental implants are more expensive than most prosthetic alternatives available today. However, that is only true if you consider the immediate rather than long-term costs.

Alternatives like dentures and bridges are more than half the price of implants. However, they are made from less durable materials. That is why dentures and bridges require adjustments and replacements every five to 10 years.

Implants last a lifetime and hardly require adjustments if you observe oral hygiene and care. Problems like mouth sores from dentures could trigger inflammation, incurring additional costs for treatment. Over two decades, implants may prove more affordable for tooth replacements.

An implant prevents other side effects prevalent with dentures or bridge usage. They are the best option for limiting bone structure and facial feature changes. Since implants also closely mimic natural teeth, you can regain confidence and self-esteem.

If you want the same feeling of having your natural teeth, implants offer the most organic experience. Regardless of your choice, it is wise to consult an experienced dental surgeon when seeking the best treatment. Dental implant restoration is an intricate process requiring extensive knowledge and expertise.

You can learn more about dental implants from our team at The Center for Esthetic Dentistry. Call our staff at 541-507-0999 and experience the difference today.