Porcelain Crown

Grants Pass, OR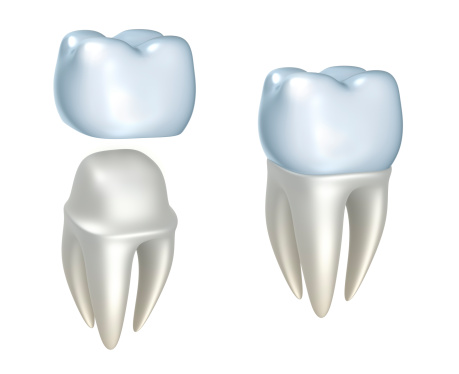 Porcelain crowns have been used in dentistry for a very long time, and for a good reason. The material is durable, looks like a natural tooth, and is easy for our dentists to shape. If you are suffering from a damaged or cracked tooth, then a crown might be just the thing to cap it and prevent it from causing you any more pain. Our dentists at The Center for Esthetic Dentistry will be able to help you get a porcelain crown and show you its benefits.

A crown is a lot like a cover for your tooth. If a tooth is damaged due to physical cracks or decay, we might place the crown on it to cover it up. The crown goes all the way to the gumline and makes sure that your smile still looks good and the tooth is protected.


Why Porcelain?

One of the biggest benefits of porcelain is that it is very tooth-like in appearance. It looks like a tooth and is also durable enough to be used as a tooth. The different shades of porcelain ensure that we will find one to match your tooth. Once you get it installed and start smiling, people will not be able to tell the difference!

Porcelain also does not force us to remove a lot of your existing tooth, so the material can still have a strong structure to sit on. Porcelain is not as abrasive as metal crowns or alloys, so you will not be risking any damage to your healthy teeth on either side of the crown.

Finally, porcelain is very durable and can last for around ten years, if not longer. The lifetime of your crown depends on your lifestyle and how much wear and tear you put on your teeth, but they still last a long while if you care for them.


The Value

While a gold or silver crown might look cool, it can also be very expensive. Other resins that are cheaper are not as durable and can require repairs and replacements frequently. Porcelain strikes a perfect balance between being nice looking and also being cost-effective for anyone to have them.


Knowing If You Need Them

Our dentists will examine your mouth during a consolation or a dental cleaning, and we will make sure to check if your damaged tooth can benefit from a crown. Then we can work with you to mold your crown, prepare your tooth, and remove any damage from your tooth that needs to be removed.

After that, the crown is put on, and you will be able to use your new crowned tooth just like a normal one. If you take good care of it and focus on your oral health, the crown will last you a lifetime.

Getting a crown can be a big process, so please call 541-507-0999 and talk to one of our The Center for Esthetic Dentistry dentists to make sure that a crown is right for you. We are always here to answer any questions or concerns about the process that you may have. If a crown is right for you, we will get the procedure started.