Dental Implants vs Mini Implants

Grants Pass, OR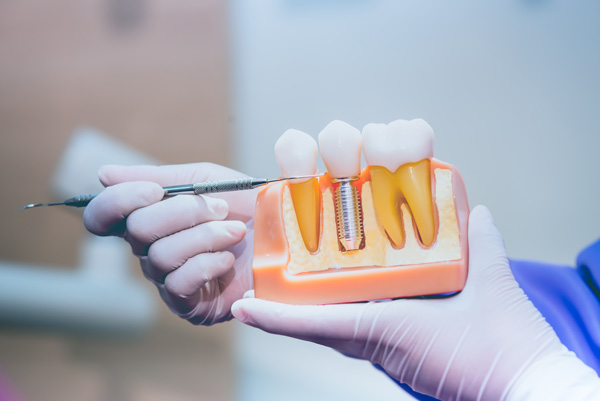 Tooth loss can lead to oral health issues like tooth decay, oral trauma, and gum disease. To protect your oral health and restore your smile, you should replace any of your missing teeth as soon as possible. At The Center for Esthetic Dentistry we provide dental implants, mini implants, and other teeth replacement options. Here is how the various teeth replacement options compare.


Dental Implants

Dental implants are permanent replacement teeth that are anchored in your jawbone. With a dental implant restoration, your dentist will first place the implant post into your jawbone. The jawbone will fuse with the implant, after which an abutment that holds the dental crown will be attached. We will help you get the right type of implant based on your needs. If one of your teeth is missing, a single-tooth implant is a great option for you. If you have multiple missing teeth, a multiple-tooth implant can be a great option for you. Due to them being securely anchored on your jawbone and made of almost indestructible material like titanium, dental implants can serve you for a lifetime.


Mini Dental Implants

Mini implants are smaller variants of regular dental implants. To be considered for regular implants, the dentist should determine that the jawbone has sufficient mass. You can lose bone mass due to tooth loss, leading to you needing bone grafting before you can get a dental implant. With mini implants, you don't need bone grafting – a process that requires months of healing. Mini implants have a narrow titanium rod that has a little ball on the top end. This ball is the attachment point for the replacement tooth.


Dental Implants vs Bridges

Unlike implants which are anchored on the jawbone, dental bridges attach to your remaining healthy teeth. Bridges are a cost-effective teeth replacement option. Also, unlike dental implants, if you've experienced bone loss, you can get bridges without needing bone grafting. Bridges, however, exert more pressure on the surrounding teeth, especially the teeth they're anchored on. Therefore, unlike dental implants, bridges aren't likely to last for a lifetime.


Implants vs Dentures

Dentures are removable replacement teeth that are either in a partial or full set. They are often used by individuals who have lost sets of teeth. Compared to implants, dentures are more cost-effective. Besides, you can remove dentures whenever you want, and they are a great option for individuals with weak or unhealthy jawbones. Dentures, however, can slip off as you speak or eat if you haven't adequately attached them with denture adhesive. Also, poorly fitted dentures can lead to tooth decay and infection. Dentures, therefore, should be cleaned regularly and replaced when they start showing signs of wear.


What's the Best Teeth Replacement Option?

The teeth replacement option that's best for you depends on the health of your jawbone and your overall oral health. We will consider all safety factors during your consultation. To determine the dental implant restoration option that's ideal for you, call us at The Center for Esthetic Dentistry at 541-507-0999. We will restore your smile and oral health through our teeth replacement procedures.