Root Canal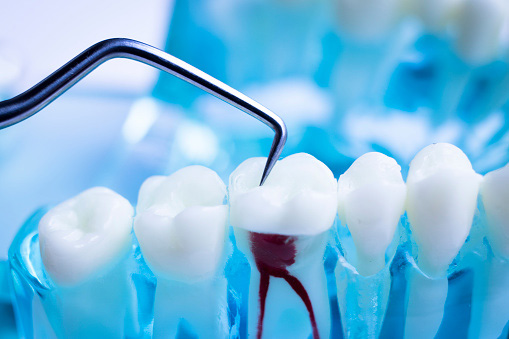 Root canals have a bad reputation, but at The Center for Esthetic Dentistry we want to change that. In fact, we think root canals are pretty great. They are a powerful restorative option for healing infected teeth and relieving discomfort, and may be able to make a significant positive impact in your life if you are experiencing poor oral health.


Understanding Root Canals

To understand the therapy commonly referred to as a root canal, you need to first understand a little bit about the structure of our teeth. Our teeth actually have very small hollow spaces at their centers. These spaces are known as root canals, and they hold an important part of the tooth - the dental pulp. The pulp is home to the tooth's nerve, which makes it incredibly sensitive. As you might imagine, when this pulp gets infected the discomfort can be extreme. If the infection spreads it might even damage the tooth beyond the point of saving, requiring the tooth to be removed.

Root canal therapy is a technique to treat infected pulp, soothing discomfort and saving the tooth from extraction. A root canal is a bit more complicated than a standard dental cleaning. One of our dental pros enters the canal to extract the pulp that has been infected. In its place, we then pack the root canal with dental materials to help prevent reinfection.


Can a Root Canal Benefit You?

If the pulp of one of your teeth has become infected then root canal therapy can make a huge difference in your quality of life. Typically, an infected pulp is hard to ignore, and feels like a really bad toothache that does not go away no matter what you do. You may find it difficult to do even simple, everyday things like talking or chewing without experiencing debilitating soreness. Dental pulp can also be irritated not just by infection, but damage to the tooth itself. So even if you are maintaining your oral hygiene, it is possible that something may have cracked the tooth internally or externally. This can cause an abscess to develop.


Getting a Root Canal

Despite their reputation, root canals are actually fast, easy procedures that can be performed at our office in just one sitting. Most patients need only local anesthesia, so there is no special prep that you have to do beforehand. You come in, we will give the infected tooth a deep cleanse, and then we will extract the pulp that has been infected. One of our dental specialists does this very delicately with tools exclusively for this purpose. With the bad pulp gone, we will replace it with dental materials and seal it up to keep the nerve within healthy.


Relieve Your Discomfort Fast!

Root canal therapy is a powerful restorative option for anyone suffering from an infected pulp. The sensitivity of an infected pulp can make doing even the simplest activities all but impossible, so if this is something you are dealing with then we urge you to call The Center for Esthetic Dentistry at 541-507-0999 to find out more about the difference a root canal can make.