Sleep Apnea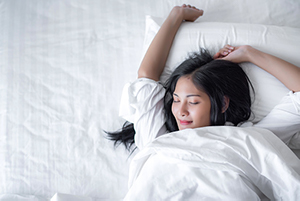 You probably know sleep apnea better by the more common term of "snoring." While not all snoring is sleep apnea, when snoring is a symptom of a condition causing deteriorating quality of sleep and difficulty breathing it is considered sleep apnea. It might surprise you to hear that sleep apnea is a dental problem, but here at The Center for Esthetic Dentistry we are well-equipped to help you get a better night's sleep.


Understanding Sleep Apnea

Sleep apnea is categorized differently depending on what causes it. Most cases of sleep apnea, and the ones we are best suited to treat, are what we call obstructive sleep apnea. This is a physical condition when you have difficulty breathing because the muscles in your throat have relaxed. Sleep apnea can also be entirely non-physical and the result of a disconnect between your brain and respiratory muscles, what we call central sleep apnea. Finally, complex or mixed sleep apnea combines both physical and neurological sleep apnea.


What Causes Sleep Apnea?

Sleep apnea has no single cause, and varies depending on whether it is physical, neurological, or both. Neurological symptoms can be tricky to diagnose and may stem from a more serious condition like an infection or tumor in the brain, or a stroke. Physical symptoms are often more straightforward and the consequence of smoking, excessive drinking, obesity, or severe congestion. Other times, obstructive sleep apnea is simply due to how your airway is shaped or because you sleep on your back.


Recognizing the Signs of Sleep Apnea

All types of sleep apnea are marked by a few common symptoms. We already mentioned snoring and breathing problems, but these are often accompanied by poor quality of sleep. If you have sleep apnea, then you have probably noticed that you start the day with a headache and are more easily fatigued in the daytime. You may also be dealing with a decline in your work and ability to focus.


How Do We Treat Sleep Apnea?

Treating central sleep apnea can often be a more involved process, but we have made huge strides in helping alleviate the symptoms of obstructive sleep apnea. One of the biggest innovations has been the development of oral appliance therapy. This is a device that you wear at night or while sleeping. It helps you to breathe even when you are unconscious by maintaining strong, healthy airflow. We adapt every appliance to you for maximum comfort and efficacy. This means that we will need to see you in our office for a consultation and fitting, to ensure that your device fits you perfectly.


Sleep Better Tonight!

Sleep apnea affects millions of Americans, negatively impacting the quality of their sleep and causing numerous and often severe respiratory difficulties. This does not have to be you. Treating sleep apnea is probably easier than you think thanks to modern technology and therapies. To find out how we tackle even the toughest cases of sleep apnea, give The Center for Esthetic Dentistry a call at 541-507-0999 and schedule your consultation today.