Laser Dentistry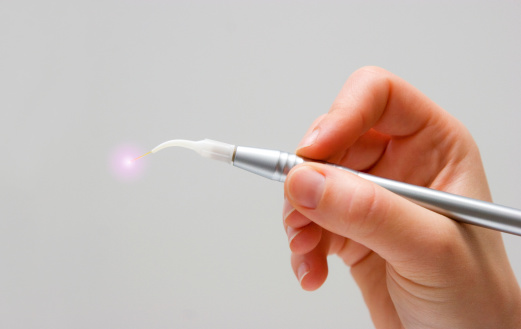 Here at The Center for Esthetic Dentistry we are committed to staying on the cutting-edge of restorative dentistry innovations. One of the most exciting of these innovations is laser dentistry, which we are using to bring our patients the most precise, painless experience possible.


What Is Laser Dentistry and What Is it Used For?

Traditionally, dentistry has been performed with drills, scrapers, and similar tools. Laser dentistry does away with those in favor of ultra-precise light beams that can remove and reshape tissue. Lasers are highly versatile and can be used in a number of different dental procedures, including finding cavities, preparing teeth for other restorative procedures, eradicating gum disease, and fixing a "gummy" smile. Laser dentistry can even be used to perform biopsies and whitening.


What Are the Different Types of Laser Dentistry?

There are two main types of lasers used in dentistry, soft tissue lasers and hard tissue lasers. They differ based on their wavelength, as each tissue type absorbs wavelengths differently. Soft tissue lasers are the more common of the two types and are typically used on the gums. This can reduce bleeding both during the operation and afterwards, is usually less uncomfortable, and cuts down on the amount of swelling. Hard tissue lasers are used on the teeth themselves. Because lasers are so precise this can reduce the risk to sensitive parts of the tooth, but it also means that the procedure can take a bit longer.


Is Laser Dentistry the Right Choice For You?

Laser dentistry is not right for all patients or all situations. If you already have fillings, then lasers cannot be used on those teeth. The need for anesthesia is usually not 100% eliminated, and drills and other tools may also be required depending on the precise nature of the treatment. This can make laser dentistry ideal for young children who do not like the sounds and sensations of a drill. Laser dentistry is also a great choice for anyone looking to preserve as much of their healthy teeth and surrounding tissues as possible. Because lasers are so focused there is less damage done to other oral structures.


What You Can Expect During a Laser Procedure

For the most part, a laser treatment is not actually all that different from a standard treatment. You will likely still need anesthesia beforehand and sutures afterward, though often less of both. What you will not notice is any discomfort, vibrations, or noises from a drill, as well as significantly less bleeding. This makes postoperative care and healing much simpler, since the treatment site bleeds less and heals faster, reducing the risk of pain and infection. You may also have to wear specialized eyewear to protect your eyes from the laser beam, as it can be very bright.


The Future Is Today!

If you are interested in how the future of dentistry can help your teeth, then give The Center for Esthetic Dentistry a call today at 541-507-0999. We are looking forward to answering any questions you might have about this incredible innovation!