Dental Bridge

Grants Pass, OR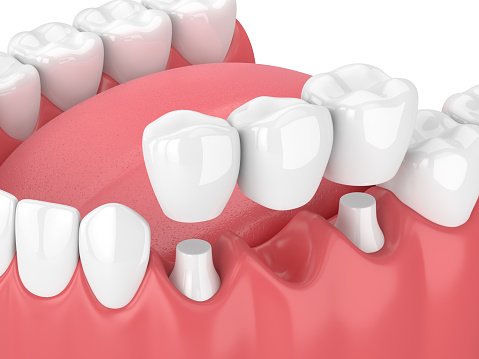 A dental bridge is an intuitively simple but powerfully effective option for restoring one or more of your missing teeth. The Center for Esthetic Dentistry can help you decide if a bridge is right for you.


Understanding Bridges

The key to understanding dental bridges is right there in the name. To solve the problem of keeping a replacement tooth firm and stable so that it does not wiggle in your mouth, a dental bridge consists of three parts that roughly form a bridge. A pair of dental crowns are placed on either side of a gap in your teeth, "bridging" the space where the false tooth will be placed. These crowns work to stabilize the prosthetic tooth. Bridges can replace missing teeth in both the front and back of your mouth.


Can a Bridge Benefit You?

If you have a missing tooth, or even multiple missing teeth, then you should consider having a bridge placed. A missing tooth at the front of your mouth can impact your self-confidence and make you embarrassed to smile or even talk. A missing molar may not be as noticeable, but even just one missing tooth can make it far more difficult to chew and eat your favorite foods.


Which Type of Bridge Is Best for You?

We offer a variety of different bridges to best fit your particular dental needs. A traditional bridge is the default one that we described above. A Maryland bridge works on the same principle but utilizes a lattice of porcelain or metal that is bonded to your teeth to support the bridge, rather than crowns which can require the supporting teeth to be filed down. Unfortunately, this option is only available to patients who have natural teeth on both sides of the space. A cantilever bridge still uses a crown for support, but just one. The final type of bridge, and also the strongest, is an implant-supported bridge that anchors the bridge with miniature screws implanted in the jaw.


Getting a Bridge

It usually takes two trips to our office to get your bridge placed. After an initial exam to make sure that your mouth looks to be in otherwise good health, the first step is to get your mouth ready for the bridge itself, which will be placed on your second visit. We may have to sculpt the teeth on either side of your missing tooth so that they can best support the crowns. We will also take an impression of the inside of your mouth. This impression will be the blueprint for your permanent bridge. So you can immediately have the use of all your teeth again we will give you a temporary bridge. When the permanent one is done, we will make the final adjustments and place it.


Find Out Today How a Bridge Can Help You

If you are looking for a fast and affordable restorative option for your missing tooth, then a dental bridge may be just what you are looking for. To make an appointment to chat with one of The Center for Esthetic Dentistry's dental professionals, call us today at 541-507-0999.