My Blog
Posts for: June, 2021
By Center for Esthetic Dentistry
June 20, 2021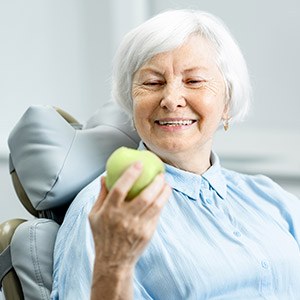 Around one in ten U.S. adults have diabetes, a metabolic disease that can disrupt other aspects of a person's health like wound healing and vision. It could also cause complications with dental implants, the premier replacement choice for missing teeth.
There are two basic types of diabetes. In type 1 diabetes, the pancreas stops producing insulin, a hormone needed to regulate the amount of sugar glucose in the bloodstream. With the more prevalent type 2 diabetes, the body either doesn't produce enough insulin or doesn't respond efficiently to the insulin produced.
Uncontrolled diabetes can contribute to several dangerous health conditions. In addition to vision impairment and poor wound healing, diabetics are at higher risk for other problems like kidney disease or nerve damage. Drastic swings in blood glucose levels can also cause coma or death.
Many diabetics, though, are able to manage their condition through diet, exercise, medications and regular medical care. Even so, they may still encounter problems with wound healing, which could complicate getting a dental implant.
An implant is composed of a titanium metal post imbedded into the jawbone. Because of its affinity with titanium, bone cells naturally grow and adhere to the implant's metal surface. Several weeks after implant surgery, enough bone growth occurs to fully secure the implant within the jaw.
But this integration process may be slower for diabetics because of sluggish wound healing. It's possible for integration to not fully occur in diabetic patients after implant surgery, increasing the risk of eventually losing the implant.
Fortunately, though, evidence indicates this not to be as great a concern as once thought. A number of recent group studies comparing diabetic and non-diabetic implant patients found little difference in outcomes—both groups had similar success rates (more than 95 percent).
The only exception, though, were diabetic patients with poor glucose control, who had much slower bone integration that posed a threat to a successful implant outcome. If you're in this situation, it's better if you're first able to better control your blood glucose levels before you undergo surgery.
So, while diabetes is something to factor into your implant decision, your chances remain good for a successful outcome. Just be sure you're doing everything you can to effectively manage your diabetes.
If you would like more information on diabetes and dental health, please contact us or schedule an appointment for a consultation. You can also learn more about this topic by reading the Dear Doctor magazine article "Dental Implants & Diabetes."
By Center for Esthetic Dentistry
June 10, 2021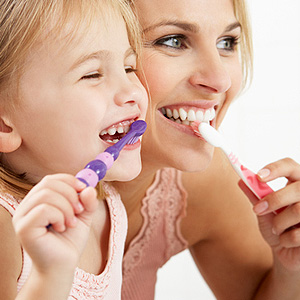 We all have habits: things we do every day often without consciously thinking. Some of them are good; some not so much. And many of them took root in childhood.
That's why it's important to help your children form good habits in their formative years, especially regarding oral health. Here are 4 areas to focus on developing good dental habits — and avoiding bad ones.
Keep teeth and gums clean. The best defense against dental disease is stopping plaque, a thin film of bacteria and food particles, from building up on tooth surfaces. That means brushing and flossing each day, along with regular dental cleanings and checkups. You should begin cleaning your child's teeth as soon as they appear in the mouth with a clean towel or rag at first and later brushing them. Eventually, teach your children to brush and floss for themselves. Dental visits should also begin around their first birthday.
A nutritious diet equals healthy teeth. The saying, "You are what you eat," is especially true about teeth. Help your child form a nutritious diet habit by providing meals rich in fresh fruits and vegetables, quality protein and dairy products. You should also restrict their sugar intake, a primary food for bacteria that cause tooth decay; try to limit sweets to mealtimes and avoid constant snacking.
Avoid habits with hidden dangers. Actually, this one is about you — and what you might be doing to increase your child's risk for dental disease. Avoid actions that increase the chances of transmitting oral bacteria from you to your infant, like kissing on the lips or licking a pacifier to clean it. You should also avoid giving your child night-time bottles or sippy cups filled with milk, formula or any sweetened liquid — likewise for pacifiers dipped in something sweet.
Steer them away from future bad habits. As children become teenagers, they're eager to stretch their wings. While this is normal and good, they can get into habits with dire consequences for oral health. You should by all means steer them away from tobacco use or oral piercings (tongue and lip bolts especially can wreak havoc on tooth structure) that can harm their teeth and gums.
If you would like more information on dental care for children, please contact us or schedule an appointment for a consultation. You can also learn more about this topic by reading the Dear Doctor magazine article "Dentistry & Oral Health for Children."