My Blog
Posts for: November, 2020
By Center for Esthetic Dentistry
November 18, 2020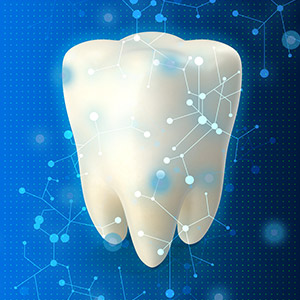 What a difference a hundred years can make—especially the last one hundred. In the early 20th Century, trains were the prime mode of cross-country transportation, electrical power was not universally available, and only the well-to-do could afford automobiles and telephones. We live in a far different world, transformed by digital media, air travel and instantaneous global communication.
Dental care has also made exponential leaps. Dentists in the early 21st Century have more effective and powerful treatments for disease, as well as life-like and durable restorations for missing teeth and less-than-perfect smiles. As far as dentistry goes, you couldn't live in a better time.
But if you thought the last century was amazing for dental care, you won't believe what may soon be coming your way this century. Here are a few of the incredible possibilities poised to become reality in the near future.
Regenerating teeth. As of now, the permanent teeth you have is all you're going to have—but that may soon change. Researchers are closing in on the ability to grow new dentin—and if that becomes practical, other parts of teeth may be next. Utilizing a person's stem cells, the building blocks of specialized human tissue, may yield the greatest prize of all, a completely regenerated tooth.
Targeting bacteria. Tooth decay and other dental diseases are most often caused by bacteria—but not every strain. The true culprits are a select few like Streptococcus mutans, which causes tooth decay. Based on growing knowledge of the human genome, we may one day be able to develop therapies that block transmission of specific bacteria from caregivers to infants, or inhibit these bacteria's ability to produce acid that erodes tooth enamel.
Employing "nano" tools. Nanotechnology tools and devices are no bigger than 100 nanometers (a nanometer is a one billionth of a meter), and perform tasks on the cellular level. Many researchers believe we may soon develop a device of this size that can seek out and destroy tiny clusters of cancer cells within the human body before they spread. This could be a game-changer for treating deadly oral cancer.
The current state of dental care would have amazed our great-grandparents. But we may soon be just as amazed at what 21st Century brings us.
If you would like more information on advances in dental care, please contact us or schedule an appointment for a consultation.
By Center for Esthetic Dentistry
November 08, 2020
We Americans love our sports, whether as participants or spectators. But there's also a downside to contact sports like soccer, football or basketball: a higher risk of injury, particularly to the mouth and face. One of the most severe of these is a knocked out tooth.
Fortunately, that doesn't necessarily mean it's lost: The tooth can be reinserted into the empty socket and eventually return to normal functionality. But it must be done as soon as possible after injury. The more time elapses, the lower the chances of long-term survival.
That's because of how teeth are held in place in the jaw, secured by an elastic, fibrous tissue known as the periodontal ligament. When a tooth is knocked out some of the ligament's periodontal cells remain on the tooth's root. If these cells are alive when the tooth is reinserted, they can regenerate and reestablish attachment between the ligament and the tooth.
Eventually, though, the cells can dry out and die. If that has already happened before reinsertion, the tooth's root will fuse instead with the underlying bone. The tooth may survive for a short time, but its roots can eventually dissolve and the tooth will be lost.
Your window of opportunity for taking advantage of these live periodontal cells is only 5-20 minutes with the best chances in those earlier minutes. You should, therefore, take these steps immediately after an injury:
Find the tooth, hold it by the crown (not the root end), and rinse off any debris with clean water;
Reinsert the root end into the empty socket with firm pressure;
Place clean gauze or cloth in the person's mouth between the tooth and the other jaw, and ask them to bite down gently and hold their bite;
Seek dental or emergency medical care immediately;
If you're unable to reinsert the tooth, place it quickly in a container with milk and see a dentist immediately.
You can also obtain an Android or IOS smartphone app developed by the International Association of Dental Traumatology called ToothSOS, which will guide you through this process, as well as for other dental emergencies. The quicker you act, the better the chances that the injured person's knocked out tooth can be rescued.
If you would like more information on what to do in a dental emergency, please contact us or schedule an appointment for a consultation. You can also learn more about this topic by reading the Dear Doctor magazine article "When a Tooth is Knocked Out."