My Blog
Posts for: February, 2019
By Center for Esthetic Dentistry
February 17, 2019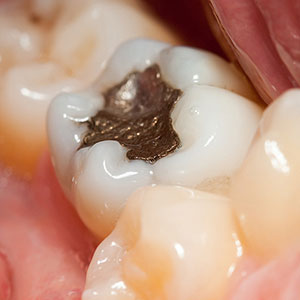 One of the top concerns in public health today is exposure to the metallic element mercury within the environment. At abnormal levels, mercury can have a toxic effect on our nervous systems and cause other health problems.
These concerns over mercury have also increased attention on one material in dentistry that has included the metal in its makeup for over a century — dental amalgam for filling teeth. Amalgam is a metal alloy that can include, in addition to mercury, silver, tin, and copper. When first mixed dental amalgam is a moldable material used for fillings in prepared teeth. It then hardens into a durable restoration that can withstand biting forces.
While the use of amalgam has declined with the introduction of life-like colored fillings, it's still used for teeth like molars subject to high biting forces. With what we now know about the ill effects of mercury (which can make up to half of an amalgam mixture) is it safe to continue its use?
The American Dental Association has performed extensive research into amalgam safety. They've found that mercury is stabilized by the other metals in the amalgam. This prevents "free" molecules of mercury, the real source of harm to health, from escaping into the blood stream in the form of vapor. Although trace amounts of mercury vapor from the amalgam are released as a person chews, those levels are well below the threshold that could cause harm.
From a patient standpoint, the biggest drawback to dental amalgam isn't safety — it's the appearance of teeth it's used on. Silver fillings aren't considered attractive. And now there are viable filling alternatives that not only look like natural teeth but can withstand biting forces almost as well as amalgam. These materials include composite resins, mixtures of glass or quartz within resin, or glass and resin ionomers. Each of these has advantages and disadvantages depending on how and where they're applied.
After a thorough dental examination, we'll be able to advise you on what filling material will work best to produce the best result. And if we do suggest dental amalgam you can rest assured it will be a safe choice.
If you would like more information on the safety of dental amalgam, please contact us or schedule an appointment for a consultation. You can also learn more about this topic by reading the Dear Doctor magazine article "Silver Fillings — Safe or Unsafe?"
By Center for Esthetic Dentistry
February 07, 2019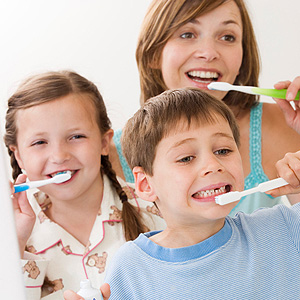 From the time they're born, you do everything you can to help your children develop a healthy body. That should include their teeth and gums. It's not over-dramatizing to say that what you do now may set the pattern for a healthy mouth for the rest of their life.
Here, then, are 4 things you should be doing for your children's oral health before they begin school.
Train them to brush and floss. Good hygiene habits have one primary purpose — remove dental plaque, a thin film of bacteria and food particles that builds up on tooth surfaces. Plaque is the number one cause of tooth decay and periodontal (gum) disease, so focus on brushing and later flossing as soon as their first teeth appear in the mouth, gradually training them to perform the tasks themselves. You can also teach them to test their efforts with a rub of the tongue — if it feels smooth and "squeaky," their teeth are clean!
Keep your own oral bacteria to yourself. Children aren't born with decay-producing bacteria — it's passed on to them through physical contact from parents and caregivers. To limit their exposure to these "bad" bacteria, avoid kissing infants on the lips, don't share eating utensils and don't lick a pacifier to clean it off.
Eat healthy — and watch those sweets. Building up healthy teeth with strong enamel is as important to decay prevention as daily hygiene. Be sure they're getting the nutrients they need through a healthy diet of fresh fruits and vegetables, protein and dairy (and set a good example by eating nutritiously too). Sugar is a prime food source for bacteria that cause tooth decay, so avoid sugary snacks if possible and limit consumption to mealtimes.
Wean them off pacifiers and thumb sucking. It's quite normal for children to suck pacifiers and their thumbs as infants and young toddlers. It becomes a problem for bite development, though, if these habits continue into later childhood. As a rule of thumb, begin encouraging your children to stop sucking pacifiers or their thumbs by age 3.
If you would like more information on promoting your child's dental health, please contact us or schedule an appointment for a consultation. You can also learn more about this topic by reading the Dear Doctor magazine article "Help your Child Develop the Best Habits for Oral Health."