My Blog
Posts for: July, 2017
By Center for Esthetic Dentistry
July 22, 2017
Can you have healthy teeth and still have gum disease? Absolutely! And if you don't believe us, just ask actor David Ramsey. The cast member of TV hits such as Dexter and Arrow said in a recent interview that up to the present day, he has never had a single cavity. Yet at a routine dental visit during his college years, Ramsey's dentist pointed out how easily his gums bled during the exam. This was an early sign of periodontal (gum) disease, the dentist told him.
"I learned that just because you don't have cavities, doesn't mean you don't have periodontal disease," Ramsey said.
Apparently, Ramsey had always been very conscientious about brushing his teeth but he never flossed them.
"This isn't just some strange phenomenon that exists just in my house — a lot of people who brush don't really floss," he noted.
Unfortunately, that's true — and we'd certainly like to change it. So why is flossing so important?
Oral diseases such as tooth decay and periodontal disease often start when dental plaque, a bacteria-laden film that collects on teeth, is allowed to build up. These sticky deposits can harden into a substance called tartar or calculus, which is irritating to the gums and must be removed during a professional teeth cleaning.
Brushing teeth is one way to remove soft plaque, but it is not effective at reaching bacteria or food debris between teeth. That's where flossing comes in. Floss can fit into spaces that your toothbrush never reaches. In fact, if you don't floss, you're leaving about a third to half of your tooth surfaces unclean — and, as David Ramsey found out, that's a path to periodontal disease.
Since then, however, Ramsey has become a meticulous flosser, and he proudly notes that the long-ago dental appointment "was the last we heard of any type of gum disease."
Let that be the same for you! Just remember to brush and floss, eat a good diet low in sugar, and come in to the dental office for regular professional cleanings.
If you would like more information on flossing or periodontal disease, please contact us today to schedule an appointment for a consultation. You can also learn more by reading the Dear Doctor magazine article "Understanding Gum (Periodontal) Disease."
By Center for Esthetic Dentistry
July 07, 2017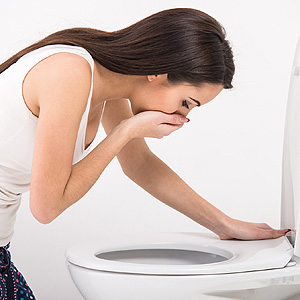 Sometimes dental conditions point to health problems beyond the teeth and gums. An astute dentist may even be able to discern that a person's oral problems actually arise from issues with their emotional well-being.  In fact, a visit to the dentist could uncover the presence of two of the most prominent eating disorders, bulimia nervosa or anorexia nervosa.
Here are 3 signs dentists look for that may indicate an eating disorder.
Dental Erosion. Ninety percent of patients with bulimia and twenty percent with anorexia have some form of enamel erosion. This occurs because stomach acid — which can soften and erode enamel — enters the mouth during self-induced vomiting (purging), a prominent behavior with bulimics and somewhat with anorexics. This erosion looks different from other causes because the tongue rests against the back of the bottom teeth during vomiting, shielding them from much of the stomach acid. As a result, erosion is usually more severe on the upper front teeth, particularly on the tongue side and biting edges.
Enlarged Salivary Glands. A person induces vomiting during purging by using their fingers or other objects. This irritates soft tissues in the back of the throat like the salivary glands and causes them to swell. A dentist or hygienist may notice redness on the inside of the throat or puffiness on the outside of the face just below the ears.
Over-Aggressive Brushing. Bulimics are acutely aware of their appearance and often practice diligent hygiene habits. This includes brushing the teeth, especially after a purging episode. In doing so they may become too aggressive and, coupled with brushing right after purging when the minerals in enamel are softened, cause even greater erosion.
Uncovering a family member's eating disorder can be stressful for all involved. In the long run, it's best to seek out professional help and guidance — a good place to start is the National Eating Disorders Association (www.nationaleatingdisorders.org). While you're seeking help, you can also minimize dental damage by encouraging the person to rinse with water (or a little baking soda) after purging to neutralize any acid in the mouth, as well as avoid brushing for an hour.
If you would like more information on the effect of eating disorders on oral health, please contact us or schedule an appointment for a consultation. You can also learn more about this topic by reading the Dear Doctor magazine article "Bulimia, Anorexia & Oral Health."